Coupling Software
In a fast, accurate and user-friendly way, our coupling software performs the selection of rigid and flexible couplings that connect shafts of machinery.
The programming logic is developed according to the fundamentals of mechanical transmissions, combined with specific rules of the manufacturers, and with a database containing the technical specifications of each coupling size and type.
Broaden your connections with our Coupling Software
Select rigid and flexible couplings quickly and accurately. Our software merges mechanical expertise with a comprehensive database, transforming coupling selection into a remarkably intuitive process.
Coupling Types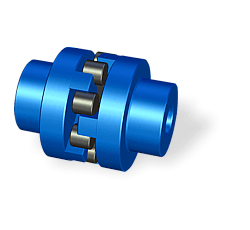 Power transmission couplings are basically manufactured in two different categories namely rigid and flexible.
Flexible couplings are those with a greater variety of types, but all are produced in a wide variety of sizes, capacities, and materials to suit any industrial application.
Flexible Couplings
Elastomeric Couplings

Spider Coupling or
Jaw Coupling
Rubber Disc Coupling
Bushed Pin Coupling
Tyre Coupling
Metallic Couplings

Spring Grid Coupling
Gear Coupling
Disc Coupling
Diaphragm Coupling
Roller Chain Coupling
Special Couplings

Helical Coupling or
Beam Coupling
Fluid Coupling
Oldham Coupling
Joints

Universal Joint
Double Cardan Joint
Homokinetic Joint or
Constant-Velocity Joint
Rigid Couplings
Rigid Flange Coupling
Sleeve Coupling or Muff Coupling
Clamp Coupling or Split-Muff Coupling
Sizing of the Coupling
For the selection of the appropriate coupling, the programming logic guides the software user step by step.
A design wizard helps the user through the data input process and provides explanations about the meaning of each design requirement and available configuration options.
Calculations and Analysis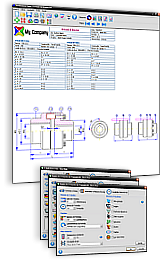 In a highly organized, flexible and friendly environment, the user establishes the design requirements and the software performs all calculations and analysis necessary for sizing of the coupling:
The user supplies characteristics of the driver and the driven machine, and determines the design parameters.

Driver

Driver Type
Driver Features
Type of Load
Available Power
Speed
Starting Torque
Braking

Driven Machine

Application
Driven Machine Type
Type of Load
Required Power
Speed *
Required Torque
Overload Torque
Inertia Loads

The user informs the operating conditions.

Operating

Operating Days/Week
Operating Hours/Day
Number of Starts/Hour
Start Up Characteristics
Reversibility

Environment

Ambient Temperature
Air Circulation
Chemically Aggressive Environments

The software calculates the Service Factor.
The software simulates the use of each type and size of coupling.
The software analyzes the performance and suggests the most suitable couplings.
The software generates a selection list with sorting and filtering capabilities.
Electric Motor Database
Since couplings are often assembled on shafts of industrial electric motors, the software has an extensive database containing data of electric motors from around the world.
IEC
11 Types of Degree of Protection
2880 Electric Motors
NEMA
11 Types of Enclosure
3240 Electric Motors
Shaft-Hub Connection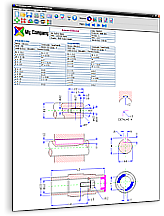 For the assembly of the coupling, it is almost always necessary to machine the holes for the driver and driven shafts.
The coupling software automatically generates CAD drawings of the fixing elements, with all dimensions and tolerances.
Holes and Shaft Ends
Keys and Keyways
Locking Bushes
Other Clamping and Fixing Elements
Standards
ISO R773 - Parallel Key
DIN 6885-1 - Parallel Key
ANSI B17.1 - Parallel Key
Taper Lock Bushes
Measurements
Diameters from 6 to 500 mm
Diameters from 6 to 500 mm
Diameters from 5/16 to 30 in
Metric Sizes - Imperial Sizes
Permissible Misalignments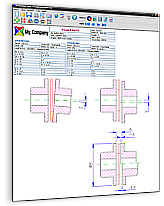 Flexible couplings allow some degree of misalignment between the driven and driving shafts.
The software shows data and drawings related to misalignment capacity of the coupling selected in three different directions:
Radial Misalignment
Axial Misalignment
Angular Misalignment
In some cases, misalignment limits can vary according to the operating speed of the coupling.
In other cases, misalignment limits can vary among themselves.
If so, the program plots the corresponding graphs:
Speed × Misalignments: Radial - Axial - Angular
Misalignment × Misalignment: Radial × Axial × Angular
Reports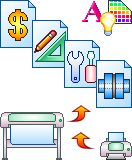 Once the coupling has been selected, the software automatically generates all the engineering reports, datasheets, charts and CAD drawings in several standard paper sizes.
The display and printing of reports use a WYSIWYG (What You See Is What You Get) interface:
Report of Design Data
Assembly Drawing of the Coupling
Detail Drawing of Shafts and Hubs
Detail Drawing of Permissible Misalignments
Charts of Performance Curves
All of these documents can be easily customized, printed, emailed or exported to formats like:
PDF - DOC - XLS - JPG - GIF - TIF - PNG - FAX - etc.
Software Settings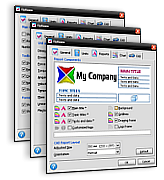 As a result of customer demand for more flexible and comprehensive solutions, the software has a host of configuration options that allow the user to customize it to suit his personal wishes and preferences.
Some Configuration Screenshots
GUI - Graphical User Interface

Built with multilingual user interface and an advanced unit converter, our software is fully capable to meet the needs and requirements of any manufacturer in the world, regardless of the volume of its production or the variety of its product range.
Software Tools
Multilanguage Support
Units of Measurement and Significant Digits
History Input Data
Custom Reports
Print Preview
Design Wizard
CAD Export
How to Purchase

This software is intended exclusively for coupling manufacturers, so there is not a version available to individual users.
We make a customized version for each client.
The general guidelines for the implementation of this software are described in the purchasing process of our software solutions.
Get Started

If you wish to start the purchasing process or request more information about our coupling software, please contact us. We are able to develop a customized and exclusive version for your company.